Sufganiyot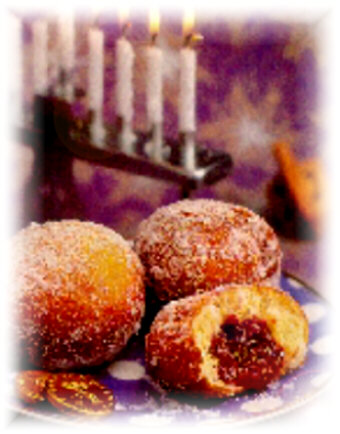 In oil, pale circles roll and flip,
doughy moons inflating.

The fun part: poking a finger
inside, giving a wiggle and twist,
pushing a dollop of jam
knuckle-deep, then two, 'til
the cavity gleams raspberry.

Latkes are pedestrian.
These puff like a breath held.

There, and here,
a million women finger
these cupped curves,
probe the soft center,
push the sticky treat inside.

We glance at each other, faces hot.
We lick the sweet from our hands.













November, 2004
Hiding your Sins Hal Sirowitz
September, 2004
Ghosts Shaun Hanson
August, 2004
Playing Eve Hila Ratzabi
June, 2004
Then Avi Levy
April, 2004
Faith David Goldstein
April, 2004
God Had a Controlling Interest Hal Sirowitz
March, 2004
Two Rituals Joshua Bolton
January, 2004
re:vision Raphael Cohen
November, 2003
Angel-Man Abraham Mezrich
September, 2003
Not Mentioned Hal Sirowitz
July, 2003
The Reason for Jellyfish Hal Sirowitz
March, 2003