My boss, Deborah Newbrun, is the only openly gay camp director in the country, having run Camp Tawonga for 20 years. She and her partner of 13 years, Rabbi Sydney Mintz, were married yesterday morning under the rotunda. It was an experience that took both of them by surprise.

"I had no idea how powerful this was going to be," Deb told me. She and Sydney committed their lives to each other 10 years ago under a chuppah with a Reform rabbi. They have two young children, and two of the most high profile jobs in the local Jewish community. Mintz is one of four rabbis at the largest reform synagogue in Northern California.

But they're no longer partners, they're officially "spouses for life," as are over 3000 over couples.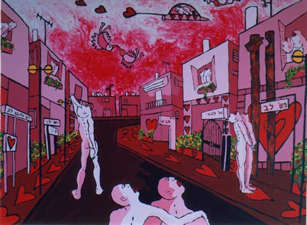 The phrase all the gay newlyweds use to describe the experience is "ohmygod." Rabbi Mintz was profoundly struck by the seemingly mundane wedding language, "by the power vested in me by the state of California."
"OhmyGod!" she said, "I can't believe we haven't had this kind of security before. OhmyGod! In sickness and in health, til death do we part!"
Our local state assemblyman Mark Leno presided over dozens of weddings that day. Twice blessed (Jewish and gay), he described the experience as a day full of "Shechechiyanu moments."
* * *
It isn't just the gayborhoods of San Francisco that are caught up in the soap opera. Each day, new stories (and challenges) unfold - the Gay Marriage Wal-Mart Tour hit the road, lawsuits have been filed, speeches are being made. A joyous political demonstration led by newlyweds erupted in the streets of the financial district during yesterday's rush hour.
Everyone I know openly mocks the condemnations coming from Sacramento and the Governator. We roll our eyes at all the nuance and pragmatism and deft avoidance in Washington. Bush and his constitutional amendment has us in stitches - the Chronicle put one of those classic monkeyface shots of him next to their double decker headline Same-Sex Marriage Ban of "National Importance." There is a broad support in town for our new mayor, Gavin Newsom, who seems full of surprises.
There's a sad side too, for my gay friend who just ended a six-year partnership. They were struggling with codependency issues and hadn't been really happy for some time. The gay marriage news came just after my friend's partner moved out of their apartment.
"I feel like that would have been us if it had happened 6 weeks ago," my friend said as we looked at photos of ecstatic couples outside City Hall, tossing bouquets and crying with joy. "Maybe if we'd been able to get married things would have been better."
Oh great, so this is progress? Now my gay friends are thinking like my straight friends. Let's "fix" our relationship problems with weddings and invitations and registries and all the other hoohah.
I'm sick about the prospect of lines around the block for gay divorces. Although I suppose there's some consolation in the new gloss that "gay divorceť" will take on.
* * *
No one knows what will happen in the days and weeks to come. It seems clear that Governor Schwarzenegger will force the evidently reluctant state attorney to put an end to the marriages, and that the courts will be busy. The governor predicts unrest and possible violence from those who would protect the "sanctity of marriage."
I think he'll get his unrest, but it will come instead from the millions of loving citizens - gay and straight, married and single - who recognize this as the great civil rights movement of our time.
Time to get on the bus, sit down at the lunch counter, pray with our feet. Marriage is indeed a shechechiyanu moment. I give thanks that God and the brave leaders and lovers of San Francisco have enabled us to reach this season.
* * *