Yet Cash wasn't simply a depressive, like the self-pitying nü-metal whiners of today. He was a man with something to tell us, someone who knew more than we did and who tried convey his knowledge through the medium he knew best. Cash's prescription for hurt can be described as primarily religious, yet his religiosity is that of the Jewish prophets and of Jesus Christ, not the pious, Christian-right crowd. Care for the weak and the downtrodden, for the orphans and the widows, for the poor and, yes, the murderous too. Care because (for Cash) Jesus told you to and care because dammit, what else are you gonna care about?

Not for Johnny Cash (incidentally, a J.C. himself) the intricate political commentary of a Bob Dylan -- well, not the Dylan of "Masters of War" or "The Times They Are A'Changin'". Try "Maggie's Farm" and you're getting closer, and the religiously-soaked imagery of "John Wesley Harding" and you're closer still - it was after the JahWeH album that Dylan and Cash collaborated, covering "Girl from the North Country." By then Dylan had learned what Cash seemed to know from birth: that Jesus was a revolutionary and that the Bible's no-bullshit morality is ultimately subversive. When Cash dealt with social issues, he did it in a way that made sure we knew it was the voice of the common people speaking, and not some overly-theoretical ivory-tower intellectual. In "The Ballad of Ira Hayes" (written by Peter LaFarge, and found on Cash's Bitter Tears concept album dedicated to the plight of Native Americans) Cash eulogizes a Native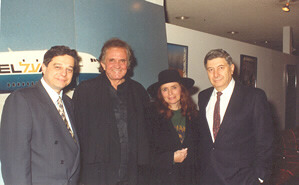 American Marine who fought at Iwo Jima and came home to praise and accolades, but whose skin color and ancestry quickly limited his post-war opportunities to unemployment and alcohol: "He died drunk one mornin' / In the land he fought to save / Two inches of water in a lonely ditch / Was a grave for Ira Hayes." It's the same story of unfortunate drunks that Cash's southern white audience knew well - but this time the drunk was an Indian, and what drove him to drink wasn't a woman but white racism.
And here's Cash on the issue that tore the baby-boomer generation apart like no other: "We did our best to let 'em know that we care / For every last one of 'em that's over there / Whether we belong over there or not." And then:
If I ever go back over there any more
I hope there's none of our boys there for me to sing for
I hope that war is over with
And they all come back home
To stay
In peace.


The song, "Singin' in Vietnam Talkin' Blues," is a spoken-word narrative of Johnny and June Cash's trip to Vietnam to sing for the troops. Lessons learned: 1) War is scary, 2) Soldiers have a rough deal, 3) These things are hard to understand. No scathing condemnation of Johnson Administration policies or imperialism or militarism works its way into Johnny Cash. Just a deep, abiding sympathy for those who suffer and a wish for it to end.