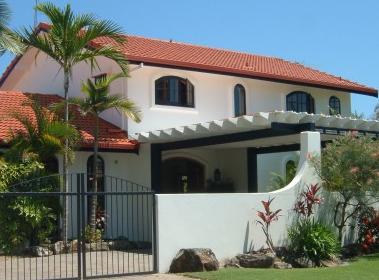 Samaria for Rent

This morning there was a notice in my junk-mail folder that caught my eye:
Notice: House for Sale / Rent in Neve Aliza (Ginot Shomron) 6 large bedrooms (2 bedrooms on ground floor and 4 bedrooms on second floor each with a spacious walk-in closet) large living room/dining room central air conditioning/heating on both ground and second floor 3 bathrooms 2 closed balconies (off the master bedroom and a laundry room) 220 sq meters Well kept garden.For details please call Mike or Debbie Greenberg*, or E-mail: xxxx@netvision.net.il
(* Names changed, of course)
This place is huge. It sounds really good. Too good. I don't know where Neve Aliza is, but there are code-words here: "Shomron" is settler-speak for Samaria, the biblical name of a region in the West Bank, roughly the half north of Jerusalem. Six bedrooms? Central air? Sounds like a recently-built townhouse. Nothing in this e-mail says so openly, the owners are probably "settlers" or, more frankly, "settlers leaving." They may be heading down to Gaza to lay before the bulldozers, or bringing their family back to Israel Proper. But my curiosity is peaked, and I must know more.
I google "Neve Aliza." I find that it is a "unique" little community made up entirely of somewhat religious American immigrants, one of three communities that make up the 6,000-person town (hoping to grow to 20,000, it repeatedly insists) of Karnei Shomron. The town has a website, a downloadable tourism brochure, and a bulletin board for residents. Much is to be said for Karnei Shomron: fine city planning, lots of English-speakers, public transportation, lovely well-groomed, tree-lined streets, and gorgeous views of Eretz Israel. I'm sure they have fast internet connections and a large, spotless public pool. It has a certain appeal.
Like the Greenberg family's email, however, the website leaves many questions unaddressed. Even if I hadn't seen it on a map, the language alone convinces me that Karnei Shomron is a settlement. Nevertheless, the website never says "settlement." And it doesn't include a map. It does mention that terrorists have murdered some civilians inside the town. This doesn't scare me: I live in Tel Aviv, and terrorists have murdered many civilians here as well. But nothing is said about security arrangements. There are no pictures of barbed wire, armed guards, or checkpoints. I certainly hope they have them in abundance.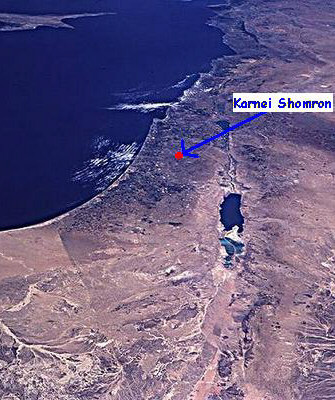 What is stressed is the Good Life, and its proximity to "real" Israel – just 12 kilometers from Kfar Saba. I download the pdf tourism brochure: come and visit! 4 hours in Karnei Shomron, 8 hours in Karnei Shomron, Shabbat in Karnei Shomron. It seems lovely – after living for years among the politically correct in central Tel Aviv, it would be a pleasure to be welcomed with open arms by friendly ex-Americans who respect and value the sacrifices I have made to live in Zion rather than asking me, with a cocked eyebrow, what on earth could have induced me to move to this hell-hole. (Which they would gladly leave, my Tel-Avivian friends always insist, if it weren't for that rentable two-bedroom apartment their grandparents left them that is paying their mortgage, the cheap health care and day care, and besides, they are already so well-known in their professional fields since most of their colleagues are old high-school buddies…). In Karnei Shomron, nobody is well-connected or native-born; nobody is renting out their grandparents' property and living like a faux-bohemian. They are like me: idealistic, Anglo, hard-working, displaced. Why wouldn't I want to live there?
Well, there's this wall. Kfar Saba, "just 12 kilometers from Karnei Shomron," is a humble old border city. The wall, Israel's recently-built security barrier, goes alongside the far border of Kfar Saba, largely to insulate it from Kalkilya, a somewhat hostile Palestinian city a few minutes' walk away. In the past, many bombers made that easy walk. I've seen the wall that goes around Kalkilya, on three sides – it is oppressive for the people of Kalkilya, but a great relief for the long-suffering citizens of Kfar Saba.
So the crucial question emerges: where is Karnei Shomron in relation to that wall—inside or outside?