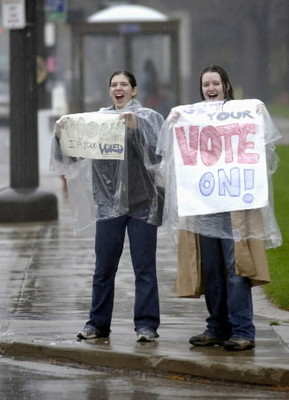 At work for Kerry/Edwards in Ohio, I recalled my last dabble in Ohio politics. It was 1992 and I was 13. That year I had converted from an aspiring hoodlum and 8th grade basketball star into a serious candidate for student council president. After winning Junior High fame in the arena of sports, I was ready to launch a Clinton-inspired run for office. I cobbled together a coalition of young voters—3rd, 4th and 5th graders—and, having adopted Clinton's easy-going campaign style and reach-out-and-touch-the-voter approach, I won by a landslide. Like Clinton, I prevailed by appealing to voters' material interests—in my case, by promising "More Pizza, More Often." Faith was not a campaign issue despite, or perhaps because of, the fact that this election took place in an Orthodox Jewish school.
But that was a different era.
I
Growing up in Cleveland Heights, a suburb directly outside of Cleveland, I never imagined that Ohio would be a topic of interest, and certainly not one relevant to the future of the nation. As a kid, I sometimes wondered if my parents' relocation from Israel to Ohio had been tantamount to abandoning history altogether. I harbored strong suspicions that my parents were guilty of something even worse than mere exile: they were guilty of the deliberate choice of exile. To my mind, moving to Cleveland from Jerusalem had rendered us obsolete as Jews, and perhaps as humans.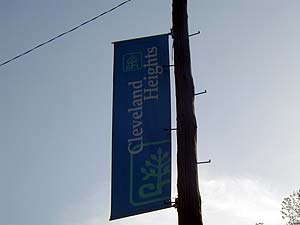 My youthful faith in politics, Ohioan, national, and otherwise, was dashed nine years ago when I read in the papers, "Peres was with Rabin at the hospital. Witnesses said that Peres kissed the prime minister on the forehead as he died." I remember, I had been praying alone in my parents' living room—it was the evening prayer which concludes Shabbat, a time associated with messianic expectation. Still nestled in the warm silence of Shabbat we hadn't yet heard the news. As I began the silent prayer, my mother walked in and slunk up against the door. "They killed him," she said, "They killed Rabin." As I was still in the middle of the prayer, forbidden by Jewish law to speak, I didn't respond. She started crying. Instead of consoling her, I read prayers of consolation.
Returning from two weeks working for Kerry in Ohio, I couldn't stop thinking of Rabin and lost causes. Of course, equating Kerry with Rabin is extreme. There is a significant difference between these two men, their countries and their fates. Still, for some reason that probably had to do with the early signs of winter, as I returned to Cleveland after years away, my mind wandered around these two events. I wanted Kerry to win for many reasons, but this trip was also about something else. It was about returning to the place of my childhood, the city known as 'the mistake by the lake,' and, I hoped, writing a new and redemptive chapter. Cleveland was literally a joke, the butt of jokes, a city with no purpose; this was a far cry from the city of my birth, Jerusalem, a city that possesses more meanings than any one place can stand to hold, a place bursting with purpose. I wanted to redeem Ohio for myself; I wanted to make it not a mistake in my life. Somehow, this October seemed like a good moment to find some personal meaning in that place.