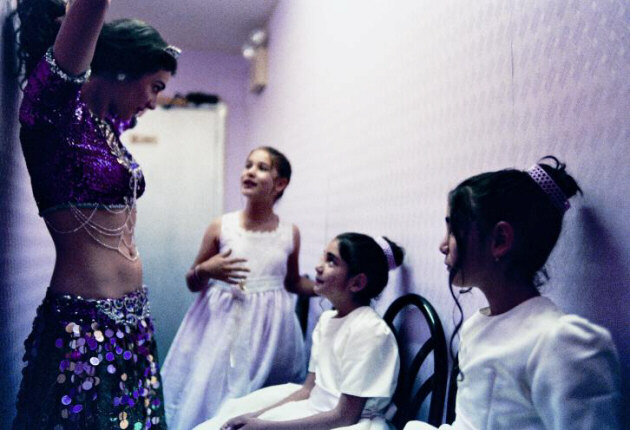 "Belly Dancing" is a 19th century European term. The original terms for the art are actually raks balady ("country dance") and raks sharki ("Eastern dance"). Personally, I've always found the premise of a sacred prostitute performing these dances to be something of a sexual cliché, but an alluring one at that. Yet these photographs, situated in various emigrant, working class enclaves of New York's five boroughs engages the cliché in a gritty narrative. These new works, part of a show called "Diary of a Dancer," are at the Ricco/Maresca Gallery in New York, and accompany the release of her new book of photographs with the same name.
Although Carucci's photographs are not explicitly erotic, they do at times evoke a kind innocent sexuality. The photo of Carucci in her belly-dance bra and skirt mentoring some young girls, who are obviously fascinated by her costume and moves, makes her out to be the equivalent of the grade school substitute teacher with an unusual vocation. Carucci, however, is no amateur, and takes her dancing seriously. After an adolescence spent studying theater and music in Jerusalem, a two year stint in the Israeli army and a BFA from the Bezalel Academy of Art, she joined the Arabesque Dance Company and became a professional belly dancer, touring the Middle East.
That resume, as well as Carucci's Israeli heritage, and her longstanding use of her (and her family's) bodies as subjects of her photographic art, situates her as a sort of expert on this dancing form. Yet her fame is as a photographer, with a Guggenheim Fellowship, and the International Center of Photography Infinity Award, to her name, as well as prominent features in the New York Times magazine, Time Out New York, on buses throughout London, and even on the previous cover of Zeek.