Heart of Pinkness:

Reviewed:
The Grrl Genius Guide to Sex (With Other People), by Cathryn Michon
St. Martins, 2004



When I call my dad on Fathers' Day this year he will be too distracted to talk. His wife will be out of town with friends and he will be taking care of himself all too well in her absence. Two televisions will be flickering on the mantelpiece, simultaneously showing a PGA tour event and a Major League ballgame. The smell of steaks smoking on the grill will be almost rich enough to waft across the telephone lines, and perhaps some other middle-aged, twice-married Jewish men will be on the scene, using my dad's presumed loneliness as an excuse to escape their wives for a night too. Jokes will be told -- or, repeated anyway, for those who missed their first telling last Monday morning at the deli or Wednesday afternoon in the schvitz.
None of them see themselves as defective, in need of corrective therapy or self-help of any kind, and I admit that, despite believing misogyny to be a trait in need of repair, I too have always smiled at it, in the gentle forms of my dad, his crew, and their unspoken contention that women are necessarily evil accessories in the lives of contemporary, heterosexual Jewish males of marriageable age. My wife tells me she occasionally discerns the same trait in me, as when I suggest she stay home while I go out with my friends to play all-night poker, say, or go to a Koreatown for barbecue, a table scrub and a politely-declined blowjob. But, unlike my father, I fail to admit that I am beyond salvation, and the opportunity to review The Grrl Genius Guide to Sex (With Other People) by Cathryn Michon, appearing as it did sometime between Pesach and Fathers' Day, seemed perhaps an opportunity to free myself from the bonds of my inherent misogyny and to battle my way into the Promised Land that is true understanding between the sexes. Or, failing that, perhaps to wander a while in the wilderness of womanhood, where stimulating scenes of female masturbation might feature prominently.
I have been called a masculinist before. It was in a writing seminar during my second year of university on the 'Left Coast,' in the early nineties, at the apogee of Political Correctness. I had written a short story (still, unsurprisingly, unpublished) in which male masturbation featured prominently, and in which the issue therefrom found its way into an alfredo sauce being prepared by fabulous versions of Michaelangelo and Leonardo Da Vinci. The graduate student in charge of babysitting the class, who had mysteriously dropped her first name in favor of a mere initial, first accused me of plagiarizing Tom Robbins, whom I still have never read, and then accused me of being a masculinist.
I feigned indignant outrage at the time, availing myself of a rhetorical currency that has depreciated greatly in the intervening years but is still the gold standard in American academia. In retrospect, however, I know that her branding of me was prophetic. In fact, besides the collected works of the scores of hysterical ex-girlfriends whose post-breakup letters I keep in an old container down by the docks, to this day I have only read works by one female author: Lorrie Moore, whose gorgeous fiction (Anagrams, Like Life, Who Will Run the Frog Hospital?, Self-Help and Birds of America) is the sum total of my experience with women in literature.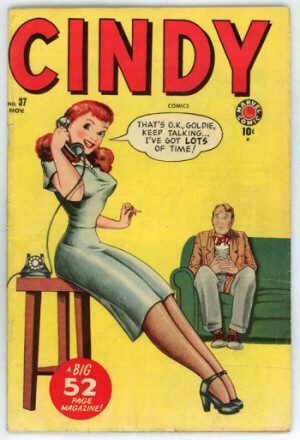 The Grrl Genius Guide… was going to be only the first step I took in fixing this anemic record. I would be reading Virginia Woolf and Anais Nin in no time. Susan Sontag? Camille Paglia? Who knew what heights I would scale in my quest for enlightenment and an appreciation of the other gender? I fingered through the introduction with enthusiasm, and thought I detected a vaguely Borgesian quality in the way Cathryn Michon the author disavowed the exploits of Cathryn Michon the protagonist. I became encouraged that the next three-hundred-odd pages might actually contain some clues to the labyrinth of the labia, the mysteries of the mons, the complexities of the female sex. So I burrowed in with viagric gusto and plowed ahead with firm resolve -- but unfortunately the flaccid prose deflated my interest with every turn of the page.
The Grrl Genius Guide… was a difficult read: difficult in the sense that the cover – pastel-colored candy-hearts littered around a hot pink title – all but prevented me from whipping the book out on the subway, which is where I do most of my reading. Perhaps I embarrass too easily: I wouldn't necessarily want to be seen in public with The DaVinci Code either. But Ms. Michon's chosen subtitle – "A Self Help Novel" – finally ensured I would only be able to read this book in a locked room with no windows. I maintain a wide berth, as a matter of principle, from "Self help" literature of any kind, even to the extent of steering clear of Religion and Sex only because those subjects (in what surely must not be mere alphabetic serendipity) tend to border "Self help" in most bookstores and libraries.
However, the reader will find that, unlike the stories in Lorrie Moore's ironically titled collection Self-Help, for instance, Ms. Michon's earnestly (read 'irony-free'!) subtitled "Self-Help Novel" provides no help for the self whatsoever, but rather, by avoiding the subject of the self and its interaction (specifically romantic and sexual) with other selves, inflicts yet more damage on a prudish American collective still uncertain about the nuances of sexual identity and squeamish about sex.
Clearly I am not the target audience for The Grrl Genius Guide to Sex (With Other People) but, at least as a representative of one of those "other people," I believe wholeheartedly in exploring relations between and among the sexes with as much depth and breadth and honesty as possible. I hope I am not misunderstanding feminism when I say that one of the injustices it has highlighted is that female characters have traditionally been considered "other" than normal, and are usually defined by men. As a representative of the "other people" in this book I wanted to see whether Michon is more responsible than her male counterparts.
That said, I was not expecting a treatise on feminist mores, though I did, in these days of reality TV and tell-it-like-it-is blogs, expect some reality. After all, although I want to hear Simone de Beauvoir articulate the crippling pressures of the patriarchy I also want to hear from Monica Lewinsky what it felt like to suck the most powerful prick in the free world, not to see her demure and promoting a line of designer purses. Michon, however, provided neither type of personal testimony, lining the gap between the fictional Cathryn and the authorial Cathryn with a lead shielding that only allowed the outlines of self-decrying cultural stereotypes to penetrate from one to the other.



Star Wars, George Bush, Judaism, and the Penis
Jay Michaelson
The So-Called Jewish Cultural Revolution

Leah Koenig
Witnessing Marshall Meyer
Josh Feigelson
We Will Destroy the Museums
Dan Friedman on Ashes and Snow
Clive Firestone
Nicole Taylor
Heart of Pinkness
Michael Kuratin
Archive
Our 670 Back Pages




Zeek in Print




Spring 2005 issue now on sale!






About Zeek




Mailing List




Contact Us




Subscribe




Tech Support




Links
From previous issues:

The Polity
Rachel Dobkin


Deep, Jewish Pain
Andrea Liu


Deconstructing Zell Miller
Jay Michaelson