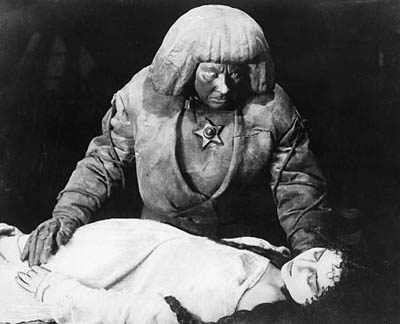 I had never heard of a golem prior to the Kavalier & Clay epiphenomenon of '02. That was the year the Michael Chabon novel came out in paperback and all the literate Manhattanettes and Brooklynettes bought their copies.
There I was on the subway during the afternoon rush, hungover, struggling to wake up, praying I would make it to the passport office before she shut down for the day. Of course it was spring, and seated opposite me-the bachelorettes of New York City. I'm admiring the shape of a kneecap, the chiaroscuro action where a thigh disappears beneath a dainty flap of silk-Lycra blend, and then my gaze wanders up. I cannot help this wandering, seņoritas, discomfiting though it invariably proves to both parties. I have to look into your eyes. Have to, must. A biological imperative, maybe. Are you looking into mine? Will sparks fly across the aisle on the Lex Line express? Never once in twelve years of subway ogling have these tacit ocular overtures yielded so much as a telephone number, yet every weekend-every weekend, dear sisters-I have to explain to my mother this lack-of-grandchild situation. She paid for much of college, you understand. I am an educated, hence highly eligible, albeit unemployed and listless, bachelor; I owe. Everything I have I owe to her. Therefore I must try. When you notice my peepers crawling unabashedly from your sweet calves, past your thighs and darting like a madman's ice pick into your yeux (oui, mes petites!) , consider it an expression of filial piety. As I do it, forcing you to cast your own gaze askance in defense of self, honor and chastity, and perhaps even to hop off the train a station or two early (but the extra walking is good for those calves, dear bone of my bone!), I'm acting mainly in the interests of my mother. It's the good boys who leer, principesse. Capite?
There I was, as I say, defending family values. I check the legs, check the eyes. Get caught in the act of checking. She looks away immediately. Inauspicious. No Tavern on the Green for you, missy. We roll into the next station and all at once she's bounding off, like a terrified deer. God, but she looked fertile.
"Mom? Bad news again..."
Here comes another. Legs and then eyes. Spread over her lap is the same darn paperback the other one had: The Amazing Adventures of Kavalier & Clay. It's bright yellow.
When the women of New York embrace a work of literature, I too embrace that work. Remember Philip Pullman? It's not as if I learned about that crazy goy in The New York Review, for Ariel Sharon's sake.
I picked up a copy of Chabon. I read several different pages, always on the subway, engaged in one segment or other until my soul sensed prospective loins taking a seat within view, and I peeped up again. Sometimes she was reading the same book, and we exchanged a little smile. How great! But I could never close the deal. Never got the digits, never crossed the aisle, clearing my throat and breaking out the old standby: "How soon do you want to bear children? My name is Josh."
In one of the parts I skimmed, there was this golem. He was a clay (Klay!) monster brought to life by the Jewish black magic all you brothers and sisters learned, as I did, in Hebrew school, while snacking on "Fruit Roll-Ups" made from the tender skin of gentile fetuses. (OOPS! SHHHH... ;) ) That's about all I got. It seemed like a Frankenstein ripoff.
"Frigging Chabon," I says to myself. "Pulitzer Prize my butt."
Then a girl sat down....